The Allstars Business Club Zurich: Seminar 'New Ways of Marketing'
Do, 12 Apr 2018
19:00 - 21:00
Simple. More. Customers.
More Customers? More Success? More Flexibility? More Freedom?
Explore new ways of marketing. Expand your customer service. Steer your SME into a secure future.
We are a professional international business network of innovative entrepreneurs, who share a common goal: to drive our business successfully into the future, while at the same time helping other entrepreneurs and start-ups to achieve personal and professional success and to improve their quality of life.
As everyone knows, good networks are essential today to promote entrepreneurial growth and to create the ideal conditions for start-ups to succeed.
The Allstars Business Club is more than exchanging with like-minded people. We are a network of entrepreneurs using innovative new ways of marketing to be financially independent of seasonal and cyclical fluctuations as well as economic trends now and in the future.
Unlike any other business club, we all get our share of one of the fastest growing online markets in the world, the eCommerce, with a global and proven turnkey business concept. With this, we are building a steadily growing lucrative residual income stream outside of our core business with a lifelong customer retention and customer expansion, without geographical boundaries or borders or physical products to sell. Easy to start. Ready to go.
We are helping our existing and future customers save money on the things they are already buying every day anyway. And with our unique Prepaid MasterCard® they can even save and earn money whether they buy online or shop in their local shores. On every single purchase they get up to 34% Cash Back. And we profit from every single purchase. A Win-Win-Situation for you and your customers.
Profit and non-profit-organizations, Sports Clubs and other Clubs as well as Societies around the globe already benefit from our State-of-the-Art Global eCommerce Site for themselves, their customers, patrons, members and friends – with their own brand as well as from our proven experience.
And you can easily offer this exclusive co-branded Partner Program to all market sectors and industries from financial institutions to telecommunications, sports teams to philanthropic organizations. They can seamlessly integrate this global e-commerce solution into their marketing platform without disruption to their core business operations. There are no exceptions. Imagine how you could support them and at the same time profit from thousands of customers at once!
So, why would you want to miss out on this opportunity to win thousands of customers and to build a lucrative steadily growing residual income?
And every Member of the Allstars Business Club benefits from the very beginning from our FREE State-of-the-Art A-B-C Academy for marketing and sales professionals. They get a complete package with the latest leadership principles, communication techniques and marketing tools for a quick and easy start.
Register Now! We are looking forward to meeting you!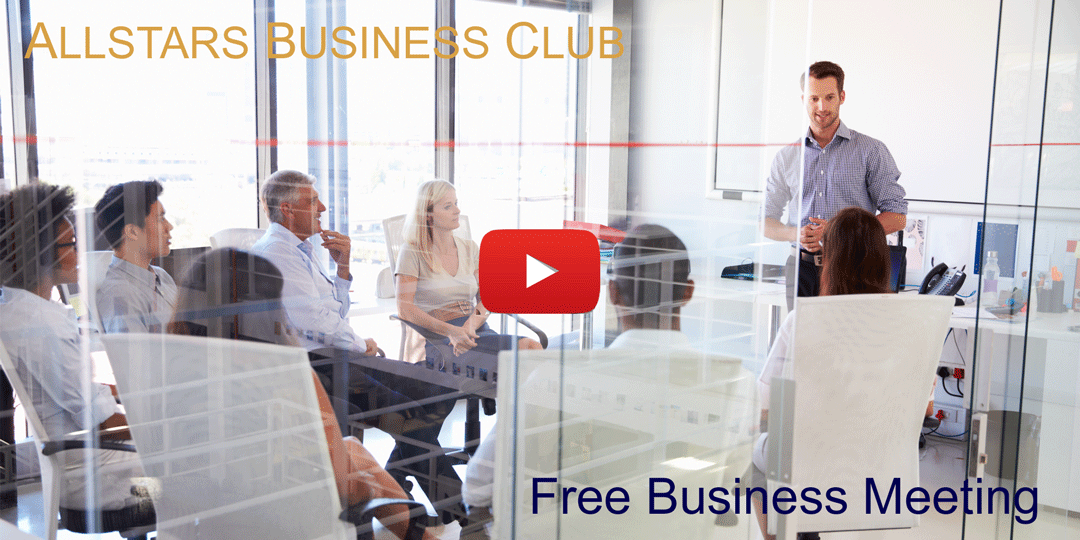 ---
IMPORTANT NOTE
► Please make a reservation in advance as the seats are limited.
► Dress Code: Casual Business.
► Please note that we do not offer any alternative platform for digital currencies or virtual currencies or similar transactions. Thank you very much.
---
Allstars Business Club
✔   WE DON'T JUST MAKE A LIVING - WE MAKE A DIFFERENCE
✔   WE BUILD OUR TOMORROW TODAY
✔   WE FOLLOW OUR PATH OF COMBINING CAREER & PURPUSE
✔   WE LOVE NETWORKING WITH LIKE-MINDED PEOPLE
---
www.AllstarsBusinessClub.com

An diesen Event interessiert?