Certified Risk and Compliance Management Professional (CRCMP), Prep Class
Mi, 16 Mai 2018 - Mi, 16 Mai 2018
09:00 - 17:00
Cyber Risk GmbH (Handelsregister des Kantons Zürich, Firmennummer: CHE-244.099.341) invites you in the preparation class for the CRCMP certification program. It has been designed to provide with the knowledge and skills needed to understand and support regulatory compliance and enterprise-wide risk management. The course provides with the skills needed to pass the Certified Risk and Compliance Management Professional (CRCMP) exam. 
Language: English. 
The CRCMP program has become one of the most recognized programs in risk management and compliance. There are CRCMPs in 32 countries around the world. 
The CRCMP is a preferred certificate for companies and organizations around the world. For example: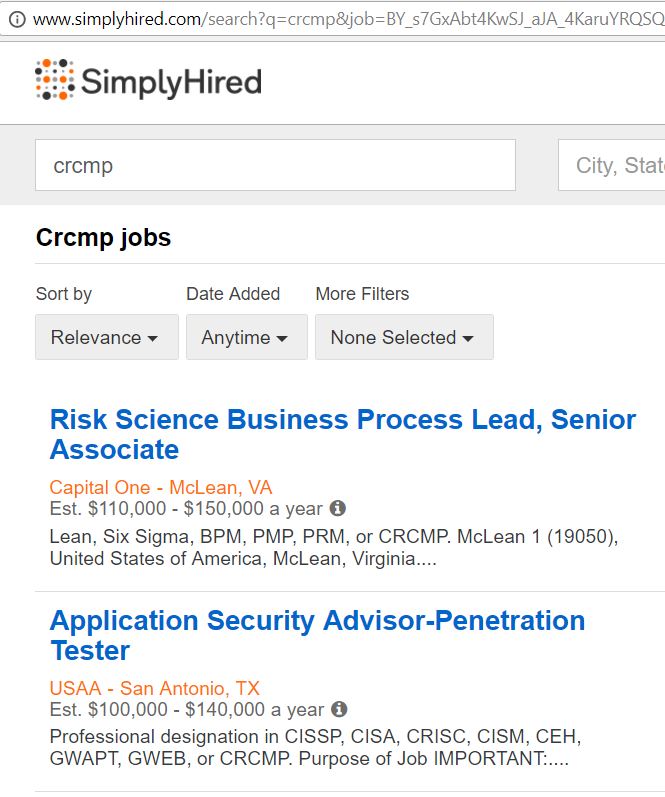 What is included in the price:
A. One-day (09:00-17:00) instructor-led training. The admission ticket includes coffee, refreshments, snacks, and lunch. Instructor: George Lekatis, general manager of Cyber Risk GmbH and president of the International Association of Risk and Compliance Professionals (IARCP).
His background and some testimonials: http://www.cyber-risk-gmbh.com/George_Lekatis_Testimonials.pdf
B. The official presentations (3,850 slides). 
C. Up to 3 Online Exams. You must pass only one exam to become a CRCMP. If you fail, you must study the official presentations and try again, but you do not need to spend money. Up to 3 exams are included in the price.
 To learn more, you may visit: www.risk-compliance-association.com/Questions_About_The_Certification_And_The_Exams_1.pdf
 www.risk-compliance-association.com/CRCMP_Certification_Steps_1.pdf
 D. Personalized Certificate. Processing, printing, packing, and posting to your office or home. 
For any questions please contact Lyn Spooner at lyn@risk-compliance-association.com
Frequently Asked Questions about the program 
1. Do I need to buy books? Are there any other expenses? 
Answer: No. There is no other cost, now or in the future, for this program.
 2. Is it an open book exam? Why? 
Answer: Yes, it is an open book exam. Risk and compliance management is not something you have to memorize, it is something you must understand and learn. 
3.  Do I have to sit for the exam soon after the class? 
Answer: No. You can sit for the exam from your office or home anytime in the future. We will create an online account that never expires. 
4. Do I have to spend more money in the future to remain certified? 
Answer: No. Your certificate never expires.  
5. How many hours do I need to study to pass the exam? 
Answer: It depends on your knowledge and experience. You must study the presentations carefully. You must go through the slides two or more times to ensure you have learned the details. It takes about 32 hours (average). 
6. Are there any prerequisites for this program? 
Answer: There are no prerequisites. 
Frequently Asked Questions about the instructor-led training 
1. What's the refund policy?
Answer: 100% refund is possible for a ticket if canceled 7 days before the event. 
2. Do I have to bring my printed ticket to the event?
Answer: No. 
3. Can I update my registration information?
Answer: Yes. 
4. Is my registration fee or ticket transferrable?
Answer: Yes. 
5. Is it ok if the name on my ticket or registration doesn't match the person who attends?
Answer: Yes. 
Important information 
The International Association of Risk and Compliance Professionals (IARCP - 1200 G Street NW, Suite 800, Washington DC 20005, USA, www.risk-compliance-association.com) is a business unit of Compliance LLC, incorporated in Wilmington NC and offices in Washington DC, a provider of risk and compliance training and executive coaching in 36 countries. Several business units of Compliance LLC are very successful associations that offer standard, premium and lifetime membership, weekly or monthly updates, training, certification, Authorized Certified Trainer (ACT) programs and other services to their members. 
Event planning is dynamic and hectic. No one likes dealing with a last-minute venue change. In the unlikely event we have to change the venue, we will transfer the event to a 5-star hotel as near as possible to the original venue. We will refund the payment to the persons that do not want a different venue for any reason (no questions asked). 
We will neither take any photos of the audience, nor publish any names or photos on social media.
Target Audience 
The CRCMP certification program is beneficial to:
- Risk managers, officers, auditors, and consultants 
- Compliance managers, officers, auditors, and consultants
- Senior managers involved in risk and compliance management
- Risk and compliance management vendors, suppliers, and service providers
Course Synopsis 
Part A: Compliance with laws and regulations, and risk management
Introduction
Regulatory Compliance and Risk Management
Definitions, roles, and responsibilities
The role of the board of directors, the supervisors, the internal and external auditors
The new international landscape and the interaction among laws, regulations, and standards
The difference between a best practice and a regulatory obligation
Benefits of an enterprise-wide compliance program
Compliance culture: Why it is important, and how to communicate the obligations
Policies, workplace ethics, risk and compliance policies, procedures and the code of conduct
Privacy and information security
Handling confidential information
Conflicts of interest
Use of organizational property
Fair dealings with customers, vendors, and competitors
Reporting ethical concerns
The definition of Governance, Risk, and Compliance
The need for Internal Controls
Understand how to identify, mitigate and control risks effectively
Approaches to risk assessment
Qualitative, quantitative approach
Integrating risk management into corporate governance and compliance
Part B: The frameworks
Internal Controls, COSO, the Internal Control Integrated Framework by the COSO committee
Using the COSO framework effectively
The Control Environment
Risk Assessment
Control Activities
Information and Communication
Monitoring
Effectiveness and Efficiency of Operations
Reliability of Financial Reporting
Compliance with applicable laws and regulations
IT Controls
Program Development and Program Change
Deterrent, Preventive, Detective, Corrective Controls
Recovery, Compensating, Monitoring and Disclosure Controls
Layers of overlapping controls
COSO Enterprise Risk Management (ERM) Framework
Is COSO ERM necessary for compliance?
COSO and COSO ERM
Internal Environment
Objective Setting
Event Identification
Risk Assessment
Risk Response
Control Activities
Information and Communication
Monitoring
The two cubes
Objectives: Strategic, Operations, Reporting, Compliance
ERM – Application Techniques
Core team preparedness
Implementation plan
Likelihood
Impact
COBIT - the framework that focuses on IT
Is COBIT needed for compliance?
COSO or COBIT?
Corporate governance or financial reporting?
Executive Summary
Management Guidelines
The Framework
The 34 high-level control objectives
What to do with the 318 specific control objectives
COBIT Cube
Maturity Models
Critical Success Factors (CSFs)
Key Goal Indicators (KGIs)
Key Performance Indicators (KPIs)
How to use COBIT for compliance
Part C: The Sarbanes-Oxley Standards
The Sarbanes Oxley Act
The Need
US Federal Legislation: Financial reporting or corporate governance?
The Sarbanes-Oxley Act of 2002: Key Sections
SEC, EDGAR, PCAOB, SAG
The Act and its interpretation by the SEC and the PCAOB
PCAOB Auditing Standards: What we need to know
Management's Testing
Management's Documentation
Reports used to Validate SOX Compliant IT Infrastructure
Documentation Issues Sections
302, 404, 906: The three certifications
Sections 302, 404, 906: Examples and case studies
Management's Responsibilities
Committees and Teams
Project Team – Section 404
Disclosure Committee
Audit Committee
Report to the Board of Directors
Control Deficiency
Deficiency in Design
Deficiency in Operation
Significant Deficiency
Material Weakness
Is it a Deficiency, or a Material Weakness?
Reporting Weaknesses and Deficiencies
Examples
Case Studies
Public Disclosure Requirements
Real-Time Disclosures on a rapid and current basis?
Whistleblower protection
Rulemaking process
Companies Affected
International companies
Foreign Private Issuers (FPIs)
American Depository Receipts (ADRs)
Employees Affected
Effective Dates
Part D: The Basel II and Basel III Standards
The Basel Capital Accords
Realigning the regulation with the economic realities of the global banking markets
New capital adequacy framework replaces the 1988 Accord
Improving risk and asset management to avoid financial disasters
"Sufficient assets" to offset risks
The technical challenges for both banks and supervisors
How much capital is necessary to serve as a sufficient buffer?
The three-pillar regulatory structure
Purposes of Basel
Pillar 1: Minimum capital requirements
Credit Risk – 3 approaches
The standardized approach to credit risk
Claims on sovereigns
Claims on banks
Claims on corporates
The internal ratings-based (IRB) approaches to credit risk
Some definitions:
PD - The probability of default,
LGD - The loss given default,
EAD - Exposure at default,
M – Maturity
5 classes of assets
Pillar 2: Supervisory review
Key principles
Aspects and issues of the supervisory review process
Pillar 3: Market discipline
Disclosure requirements
Qualitative and Quantitative disclosures
Guiding principles
Employees Affected
Effective Dates
Operational Risk
What is operational risk
Legal risk
Information Technology operational risk
Operational, operations and operating risk
The evolving importance of operational risk
Quantification of operational risk
Loss categories and business lines
Operational risk measurement methodologies
Identification of operational risk
Operational Risk Approaches
Basic Indicator Approach (BIA)
Standardized Approach (SA)
Alternative Standardized Approach (ASA)
Advanced Measurement Approaches (AMA)
Internal Measurement Approach (IMA)
Loss Distribution (LD)
Standard Normal Distribution
"Fat Tails" in the normal distribution
Expected loss (EL), Unexpected Loss (UL)
Value-at Risk (VaR)
Calculating Value-at Risk
Stress Testing
Stress testing and Basel AMA
Advantages / Disadvantages
Operational Risk Measurement Issues
The game theory
The prisoner's dilemma – and the connection with operational risk management
Operational risk management
Operational Risk Management Office
Key functions of Operational Risk Management Office
Key functions of Operational Risk Managers
Key functions of Department Heads
Internal and external audit
Operational risk sound practices
Operational risk mitigation
Insurance to mitigate operational risk
Basel II and other regulations
Capital Requirements Directive (CRD)
Aligning Basel II operational risk and Sarbanes-Oxley 404 projects
Common elements and differences of compliance projects
New standards
Disclosure issues
Multinational companies and compliance challenges
What is Basel III?
The Basel III papers
Was Basel II responsible for the market crisis?
Introduction to the Basel III Amendments
The Financial Stability Board (FSB), the G20 and the Basel III framework
The New Basel III Principles for risk management and corporate governance
The key areas where the Basel Committee believes the greatest focus is necessary
Board practices
Senior management
Risk management and internal controls
Compensation
Complex or opaque corporate structures
Disclosure and transparency
Sound Practices for the Management and Supervision of Operational Risk
The 9 principles
Part E: Designing and Implementing a Risk and Compliance Program
Designing and Implementing an enterprise-wide Risk and Compliance Program
Designing an Internal Compliance System
Compliance programs that withstand scrutiny
How to optimize organizational structure for compliance
Documentation
Testing
Training
Ongoing compliance with laws and regulations
Compliance Monitoring
The company and other stakeholders
Managing the regulators and change in regulations
International and national regulatory requirements
Regulatory compliance in Europe
Regulatory compliance in the USA
Other countries
Common elements and differences of compliance projects
New standards
Disclosure issues
Multinational companies and compliance challenges
The instructor will conclude the class with sample questions, that give the candidates a good understanding of what is needed for the exam.
An diesen Event interessiert?