Introduction To DrivenWoman - a women's LifeWorking group in Olten
Friday 8 March 2019 7:00 PM Friday 8 March 2019 9:15 PM
Save
Saved
Last update 09/03/2019
6807
DrivenWoman is a network for women with ideas and ambition who want to achieve their goals.
Dreams don't come true because it's difficult to stick to our own plans.
But imagine if you actually achieved what you always wanted. Launched that business, wrote that novel, made that career change, lived a bigger life – how amazing would that be?
DrivenWoman is a members' network that helps women define their own success, become accountable to their goals and make dreams happen. We get together once a month to create positive habits and put plans into action, one small step at a time.
LifeWorking method
This is where networking meets life coaching, but this time your coaches are other women sharing their journey. The really powerful thing about going through the shared experience of 'LifeWorking' is that it impacts directly on your positivity and belief in your own potential. Instead of the sense of isolation you may have felt before, you will be inspired by the stories of other participants and will soon notice that the obstacles you thought were unique to you are universal to most women, and can be overcome.
There aren't any other forums like this where women support each other in such a safe and honest environment. It's a community that encourages women to believe anything is possible if you are ready to put work into it!
JOIN one of our Introduction evenings (more dates in the works!):
Thursday 8 March 2018
Thursday 26 April 2018
Thursday 24 May 2018
Thursday 28 June 2018
Friday 8 March 2019
In this 2-hour introduction session you will:
Articulate what you want to achieve – what does your 'bigger life' look like?
Set your long-term goal and short-term tasks and break them down into tangible, achievable action points you can tackle.
Share and hear stories of other like-minded women. Be inspired by the stories of other participants and notice that the obstacles you thought were unique to you are universal to most women.
Get a sense of clarity of your journey ahead, be it to start your own business, take your career to the next level or simply to become more comfortable in your own skin.
There is no commitment to join DrivenWoman afterwards. Just come along. That's what DrivenWoman is all about. Encouraging everyone to make things happen!
After only a couple of months members notice a tangible change in their lives, here's what some of our members say:
"Since joining DrivenWoman in May, I have got more done in three months than what I got done in the previous year. It has been an eye-opening experience, super inspirational and most importantly it has got me focused on what I really need to do." Jane De Croos, founder of Chilli Drops
"DrivenWoman has been a life-changing experience for me. I previously worked in male-dominated industries, with barely any women in leadership roles to aspire to. I was fairly disillusioned about what I could achieve in business as a woman. But DrivenWoman has encouraged me to think differently, to challenge myself and to be brave. I no longer compare myself to others or aspire to be someone else, I aim to be the best, most authentic version of me and to truly value what I bring to the table. That belief in myself, and brand me, is paying dividends in terms of client work. So not only is my business thriving, but I also have the advantage of being surrounded by a wonderful network of supportive women from all different backgrounds and perspectives who are my personal cheerleaders. When I'm having tough times, they help lift me up and when I'm on a roll they inspire me to push myself further." Natalie Davison Director of Swell Communications
"When I joined DrivenWoman I thought I was signing up for a monthly opportunity to network and interact with like-minded women, but what I didn't know was that I was embarking on a transformational journey so gentle that it has changed me without me fully realising. It is only now, after 9 months, that I can look back and see how much I have traveled, first and foremost as a woman and secondly as a professional. There is some magic that happens when we get together to offer each other a supportive space where a story can be told - both the act of listening and being listened to opens up doors of opportunities within oneself and new routes for one's journey appear. With DrivenWoman, I got what I signed up for. And so much more." Francesca Lando, Designer
"DrivenWoman has not only inspired me and given me courage to go ahead with my business, but they have also made me understand some of the fundamentals of business and what will make my company successful. It has been an eye-opener and something that will change my life." Vuyisa Akuchie, founder of Sweet Couture Surprises
DrivenWoman Group Leaders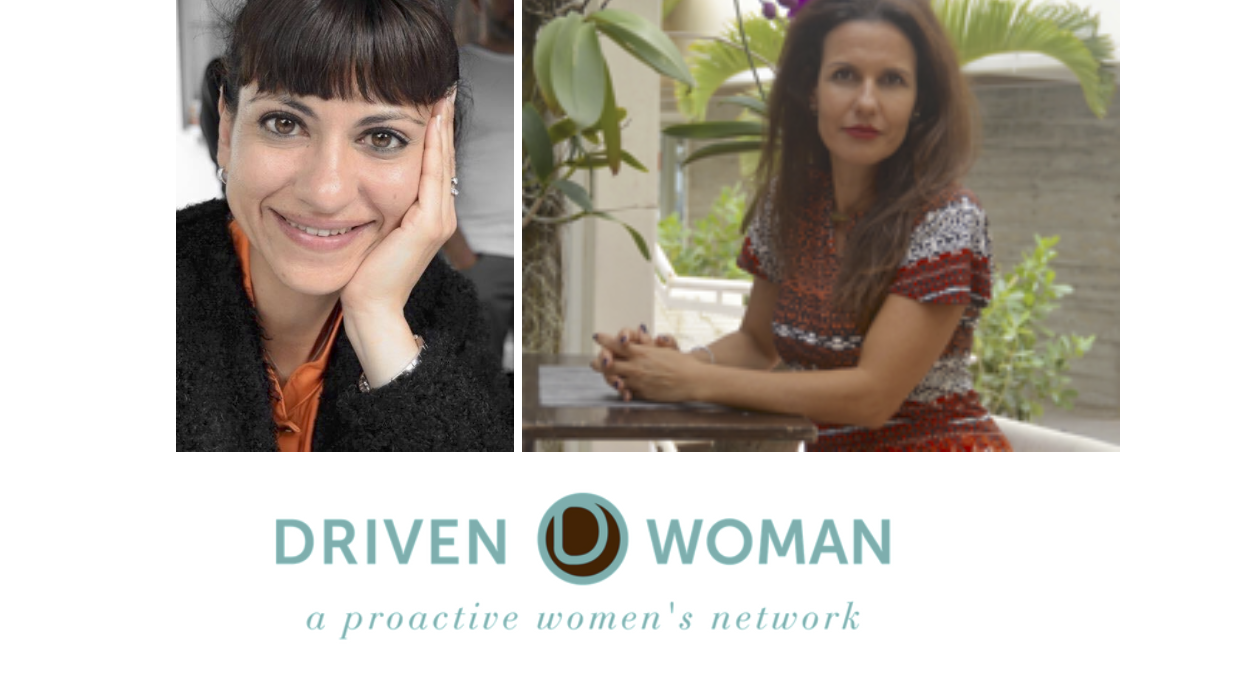 My name is Dina Blanco-Ioannou and I'm a Transformational Speaker, Educator, Teacher, Trainer and Coach. As the founder of Lessons-in-Self, I ingeniously combine my passion for education, personal development and growth to create my unique education for life programmes that foster personal growth, wellbeing and success. I have led workshops and seminars in Switzerland and at international teachers' conferences, women's groups and schools.
My purpose is to inspire others beginning or already on the journey of life to authentically,
meaningfully and purposely realise their potential. Through my own life experiences, I show no
matter your educational background, culture and gender the life you rightly deserve is yours.
Being a group leader for DrivenWoman is a wonderful opportunity to share our individual journeys,
to be inspired and empowered in a supportive environment where I too can grow and develop as a
woman on the journey of others.
My name is Susana Metzger and I am an entrepreneur, a founder, a podcaster, a tech and media geek and, ultimately, a career-minded woman, elevated by purpose and a never-ending curiosity. With an academic background in Organizational Psychology, I have facilitated learning groups and managed corporate trainings for two decades, always with an enormous commitment to inspiring people's development and personal growth. I am Portuguese, came to Switzerland for family reasons, three years ago, and found myself caught between the strongest will to go back to "my wonderland" (as I like to call it) or to continue pursuing my legacy in this country. It was a tough call and this dilemma was consuming me, until I ran into DrivenWoman, joined one of the events and this alone was life-changing. Us, women, have this powerful way of strengthening one another in pursuing life's personal goals.
Becoming a Group Leader for DrivenWoman has allowed me to combine my experience as a group facilitator with the passion for empowering others to finding their own purpose. I am obsessed about meaningful work and for leaving a great legacy behind and this is why I love continuous learning, being busy and creating things. Currently, in Switzerland I run a business (NUIsystems.net), as well as producing a podcast about female entrepreneurship and I am also the Festival Founder and Director of the Portuguese Surf Film Festival, now gearing up to its seventh annual edition. Next thing I will like to do, is meeting you in Olten and connect to a purposeful level. Come join us!
DrivenWoman Switzerland
DrivenWoman Switzerland is part of the dynamic group of DrivenWomen who meet regularly around the world (in London, Helsinki, Singapore and Auckland to name but a few). Attendance at an introduction event is mandatory for membership. Introductions are organised every month in many cities in Switzerland.
We offer 6 or 12-month memberships and you can join in any month suitable for you. Membership packages are available for 6 months – CHF480 or 12 months – CHF850. The fee covers the attendance to the Monthly Members' Meetings and 25% discount on other DrivenWoman events, such as workshops and seminars.
For more information please visit the membership page on our website or Facebook page.
Read more about our thoughts on our blog.
culture
cinema
trade shows
business
festivals
education
summer sports
Nearby hotels and apartments
Mittenstadt
Marktgasse 19, Olten, 4600, Switzerland
Marktgasse 19, Olten, 4600, Switzerland
Event from
eventbrite.com