Important Modern & Vintage Timepieces
Saturday 11 May 2019 2:00 PM Sunday 12 May 2019 6:00 PM
Save (2)
Saved (3)
Last update 13/05/2019
92235
Antiquorum Genève is Proud to Announce one of its most Spectacular Auctions *ever*.
Important Modern & Vintage Timepieces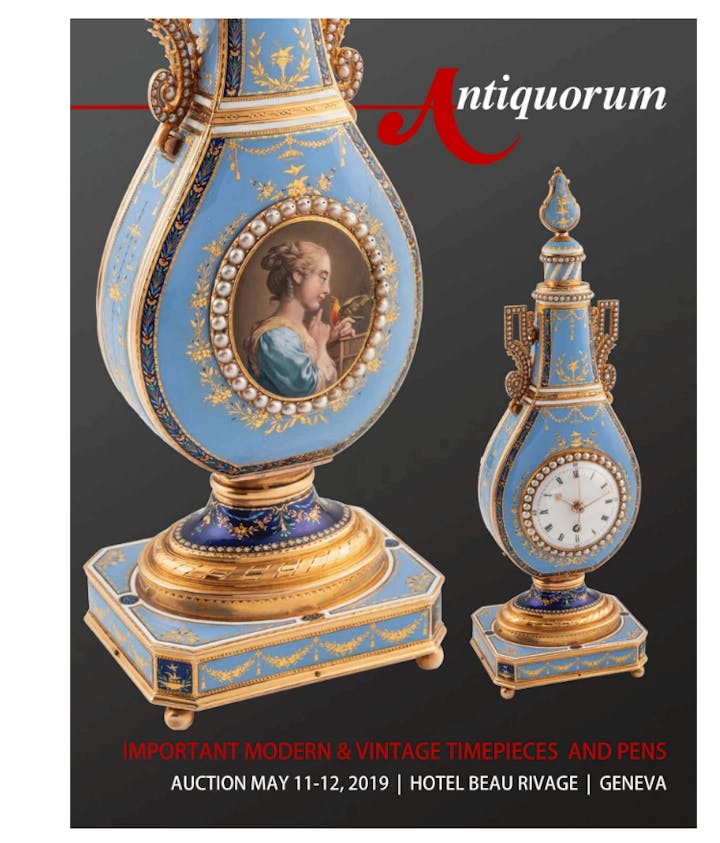 One of the most incredible Auctions in the last decade:
More than 700 timepieces: Wrist Watches, Pocket Watches, Desk & Table Clocks
The most prestigious Brands: Rolex, Patek Philippe, Audemars Piguet, Breguet, Jaeger-LeCoultre
You Can Choose how to participate: In Geneva, by Phone, Written Bid or using our Website/App

You can

Reserve Here

your Pass here. And it's 100% free.
Details:
May 11 - h. 14:00 / h. 18:00 :
3 Sessions - 217 Lots
Collection UK: 35 Lots, including a museum qualityJaquet-Droz and Leschot singing bird enamel clock unseen for over 50 years
Collectible Fountain Pens "Namiki & Montblanc"
IWC Timepieces: with over 100 Magnificent Classics
May 12 - h. 10:00-13:00 / h. 14:00-18:00:
2 Sessions - 527 Lots
Amazing selection of Rolex Daytona, among the most beautiful, rare and desirable ever appeared on Auction
An unseen Contemporary Patek Philippe Collection
More than 500 lots, including: Rolex, Patek Philippe, Audemars Piguet, Breguet, Jaeger-LeCoultre
Only if You register here:
The possibility of previewing the Lots
You'll be informed about our "Mistery Events"
The complete Digital Catalog of the Auction
Full Book of the Complete Auction Catalog: if You register now, You will have the chance to receive our catalogue (printed version) directly in our office in Geneva.
Tailor Made Consultation with our Top Experts in Geneva about your Next Watch Investment. 100% Free.
Contacts:
Antiquorum Geneve - Milan Office
Piazza Duomo, 21
20121 Milano
Tel. +39 02 87 66 25
Fax. +39 02 87 79 15
E-mail: milan@antiquorum.swiss
Nearby hotels and apartments
Hotel Beau-Rivage
Quai du Mont-Blanc 13, Genève, 1201, Genève, Switzerland
Quai du Mont-Blanc 13, Genève, 1201, Genève, Switzerland