Guest Webinar: Build a Predictive Maintenance System with AWS Greengrass
Wednesday 8 August 2018 11:00 AM Thursday 9 August 2018 12:00 PM
Save
Saved
Last update 10/08/2018
519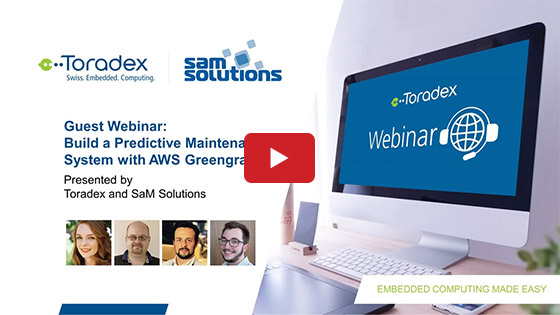 In this webinar, you will learn how to build a predictive maintenance system for a simple fan. We will also demonstrate the basic concepts used in a real-world application. For this demo, we use a vibration sensor to detect the state and anomalies of the electric motor with the help of Machine Learning.
In order to make sure we can detect the condition of the motor even with interrupted or slow cloud connectivity, we use AWS Greengrass on a Colibri iMX6ULL System on Module running Linux.
The solutions are presented on a live demo.
Key takeaways:
Learn how to build a simple predictive maintenance system with offline capabilities
Understand how to use AWS Greengrass on a Colibri System on Module based on NXP® i.MX 6ULL running Linux
Get insights into the deployment of machine learning models on an Arm®-based Edge Computing device
Get your questions answered by our experts in our live Q&A.
Grab your free registrations now: https://www.toradex.com/webinars/build-a-predictive-maintenance-system-with-aws-greengrass
Date and Time:
Slot 1 - Wednesday, August 08, 2018 11:00 AM - 12:00 PM (CEST)
Slot 2 - Wednesday, August 08, 2018 10:00 AM - 11:00 AM (PDT)

Speakers:
Yuliya Mikhalenia, Senior Marketing Specialist, SaM Solutions
Andrei Andreyanau, Senior Software Developer, SaM Solutions
Dmitry Koshkin, Business Development Manager, SaM Solutions
Alexander Samutin, FAE, Toradex Inc.
Diego Bienz, FAE, Toradex AG
Venue: Online Webinar
trade shows
expos
business
conventions
workshop
technology
Start Up
Nearby hotels and apartments
Online Webinar
Horw, Lucerne, Switzerland
Horw, Lucerne, Switzerland
Event from
toradex.com
E-mail: events@toradex.com