TOUR DU MONT BLANC - trek in the Alps (Switzerland, France, Italy)
Sa, 11 Aug 2018 - So, 19 Aug 2018
05:00 - 14:00
UPDATE:
Limited availability, LOCK YOUR SPOT BEFORE MAY 1st 2018!!
---------------------------------------
Lets explore this Summer.. one of the best hike in the Europe -
TOUR DU MONT BLAC (Switzerland, Italy, France)
INDULGE IN TO PURE NATURE!!
The beauty and majestic grace of the spectacular Mont Blanc region should be experienced by everyone on foot at some point in their lives. Thanks to this specially crafted walking itinerary, it can be.
This trip is hiking at its most civilized combining both comfort and exceptional day walks, where you carry only a light daypack, that will surely increase your appetite for even more walking adventures.
The Tour du Mont Blanc is one of Europe's most popular alpine trails and for many good reasons. The extraordinary vistas of snow clad peaks with daily pass crossings, the chance to see playful marmots and chamoix along the trail and the contrasts of walking through three different countries are just some of the memorable aspects of this iconic route.
During this delightful introduction to walking in the region you'll gradually ascend high alpine passes, breaking for lunch to absorb the panoramic views stretching from tumbling glaciers to meadows laden with colourful blooms. At the end of each days walk you'll relax and refresh in your private room in small gites and mountain hotels that brim with local charm and serve up regional flavours that compliment the walks impeccably.
Watch the youtube video here for the info:
https://www.youtube.com/watch?time_continue=30&v=E4XmN0nrLmQ
https://www.youtube.com/watch?time_continue=30&v=E4XmN0nrLmQ
------------------------------
This hike is very popular and it gets filled up very quickly, most of the dates are fully booked.
Cost: $2215/ person
So confirm with RSVP and deposit  (Non-refundable) before May1st 2018
Balance due before June 1st 2018
Payment: https://tntgrouptravel.com/tour/mont-blanc/
-------------------------------
Flight recommendation:
Arrive  before 2pm on 11th August 
Return anytime on 19th August
Airport: Geneva Intl. airport (Switzerland)
*** Confirm for availability before booking any flights***
-------------------------------------------
Details:
Day 01 
Arrive Geneva (Switzerland)
Today we will explore few must see places in Geneva:
- The Jet d'Eau is a large fountain in Geneva, Switzerland, and is one of the city's most famous landmarks,
 - Broken Chair is a monumental sculpture in wood by the Swiss artist Daniel Berset, constructed by the carpenter Louis Genève. It is constructed of 5.5 tons of wood and is 12 metres high. 
- Old town Geneva
- Cathedrale 
- Lake Geneva
- Palace of Nations
Explore local restaurant, Swiss cheese and chocolate.
Day 02
After breakfast we will continue our exploration and later afternoon.
The Lavaux vineyard area with its 800 hectares is the largest vineyard region in Switzerland! It is so special that it is listed as one of the UNESCO Heritage Sites! With its narrow streets, little picturesque villages, the majestic views over Lake Geneva and the mountains, it attracts many visitors every year. There are plenty of wine degustation events that are worth to pay attention to. The vineyard area can be found all the way between Lausanne and Montreaux.
A Scenic Hike through the Vineyards of Lavaux, Switzerland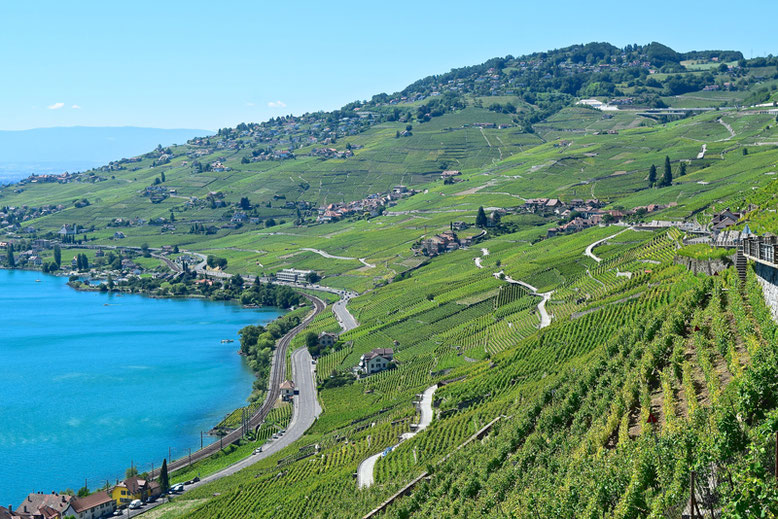 We will catch the shuttle to Chamonix.
- overnight hotel stay in the valley.
Chamonix-Mont-Blanc (usually shortened to Chamonix) is a resort area near the junction of France, Switzerland and Italy. At the base of Mont Blanc, the highest summit in the Alps, it's renowned for its skiing. Year-round, cable cars take visitors up to several nearby peaks with panoramic views, including Aiguille du Midi above town, and Pointe Helbronner, across vast glacier fields on the Italian border.
DAY 03 *** Mont Blanc - Hike start from this DAY*** Hiking is just with your Day pack to carry water and snacks***
Early morning we will take a shuttle from Chamonix to Le Tour and meet our guide.
Join Le Tour, walk to Trient in Switzerland (6hrs, 894m)
Leaving from the village of Le Tour you take the scenic high mountain path of Balme heading towards Switzerland. 
Weather permitting you will be able to take some wonderful photos of the Mont Blanc chain including the impressive "La Verte", the Drus and the Needles of Chamonix. You will cross the border between France and Switzerland before making your way down to the village of Trient for overnight accommodation.
meals: L,D
DAY 04 Trient to Champex (6hrs, 930m or 1082m)
There are two alternative routes between Trient and Champex. The rst is via the Mountain of Bovine which involves crossing the Forclaz Pass (1527m) where there are beautiful lake views. The other, is The "Fenêtre d'Arpette" (2665m) route, which is a variant on the Tour du Mont Blanc and is quite challenging. 
 The trail is not as well de ned as the lower route but as with many pass crossings, the rewards on a good weather day are the extraordinary views to the Trient Glacier. The descent to Champex is steep though you will have the opportunity to have a hot shower at your lodge. The decision on which path will be taken is always at the discretion of the guide, however usually we take standard TMB route.
meals: B,L,D
DAY 05 Transfer to Ferret, ascend the Grand Col Ferret path to Elena (6hrs, 830m)
https://3.bp.blogspot.com/-bQgB6o2SE3g/V2wzayanhZI/AAAAAAAAVdE/CBcCYbO8lB4y_jDW-0MQCee73_Pn0wtfQCLcB/s1600/DSC_0229.JPG
This morning you take a bus transfer to the small village of Ferret (1705m) and commence walking. The route takes you out of Switzerland and into Italy by the Grand Col Ferret (2537m) pass. It's a steady climb and at the Col you will be awe inspired by the sweeping views of the Pre de Bar glacier. After some time drinking in the panorama you can amble down the steep track to your overnight accommodation at the Refuge Elena which is located at the base of the glacier and a great place to view the changing light on the alps.
meals: B,L,D
DAY 06 Transfer to La Visaille, and continue to Mottets or Les Chapieux (7hrs, +950m/-1004m)
This morning we take a transfer to La Visaille from where we ascend the enchanting valley where the enormous Miage glacier ows down into Lake Combal. On the Italian side of Mont Blanc, one gains a completely different perspective of the highest peak in the European Alps. 
Continue over the Seigne mountain path, which is overhung by limestone pyramids and the Estelette Glacier, until you reach France. The trail then descends across the high mountain pastures to the City of the Glaciers. Today also provides an excellent opportunity to buy Beaufort cheese from the local farmers. meals: B,L,D
DAY 07 Cross the Contamines Natural Reserve to Les Contamines (5hrs, +930m/-1300m)
This mornings walk takes you up mountain pastures to the Col de la Croix du Bonhomme (2483m) where there are good views southeast to the peaks of the Vanoise. The trail continues down to the Col du Bonhomme (2329m) and crosses the Contamines Natural Reserve. A sharp descent through a pine forest fringed gorge takes you to an ancient Roman Road and the church of Notre Dame de la Gorge. Continue walking to the Contamines Valley.
meals: B,L,D
DAY 08 Continue to Les Houches (5hrs, +700m, -800m), trip concludes
The trail takes us along the river valley and heads slowly to La Gruvaz before continuing to Le Champel and a fairly steep ascent via Bionnassay to the Col de Voza. A longer route can be taken following a combination of tracks and trails above Contamines before you ascend to cross a shoulder of Mont Truc followed by an ascent of the Col du Tricot (2120m) which forms the divide between the Miage and Bionnasay Valleys.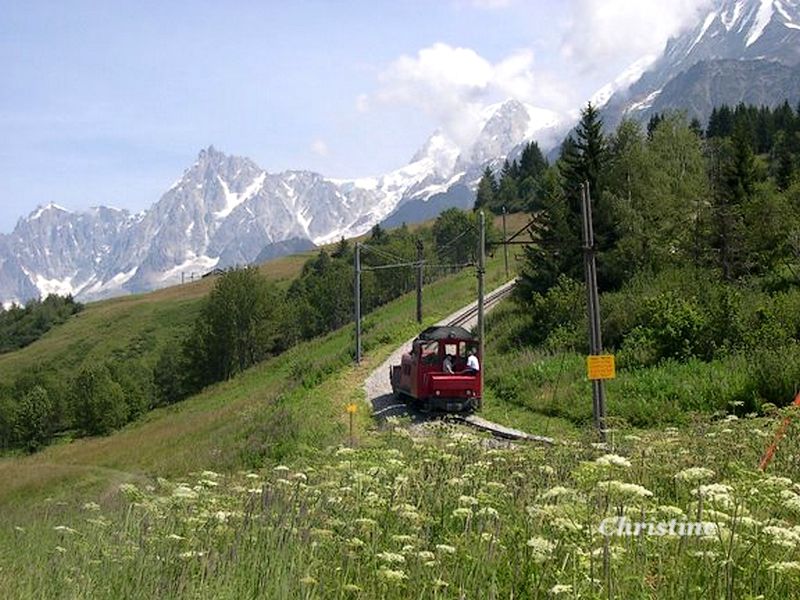 From here you have some spectacular views of limestone cliffs and the pistes below. The descent follows a combination of gravel roads and tracks past some settlements to reach Les Houches.
meals: B,L
Late evening we will drive back to Geneva, will have free time for shopping and exploring ..
overnight hotel stay.
Day 09
Return anytime after breakfast or if the flight is late evening than explore Geneva and places around. 
---------------------------------------------------------------------
Includes:
- 2 night hotel stay in Geneva 
- 1 night hotel stay in Chamonix
- 8 breakfasts, 
- 6 lunches, 
- 5 dinners (does not include drinks) 
– continental breakfasts are served and usually consist of breads, jams, coffee, tea and juices. Lunch is picnic style. Dinner will consist of 2 or 3 courses which include regional specialities.
- 4 nights accommodation in mountain hotels /gîte hostels on a twin share basis, - - 1 night quad share room. 
- Luggage transfer by luggage van (max 1 bag weighing no more than 15kgs) Experienced mountain guide
Internal transfers by local bus
Excludes:
- Personal expenses
- Flights
- Meals other then mentioned above
- Travel insurance
---------------------------------------------------------------
DURING TOUR
Accommodation is in mountain hotels or gîte hostels. In the gîte's, bathrooms and toilets are usually shared while in the hotels you will have private facilities. One night will be in a small dormitory with four beds whilst 4 nights is in a private double room. The dinners are taken at the hotel or gîte in the dining room.
 GEAR REQUIRED:
 Wet weather gear, sunscreen, walking boots, warm clothes, day pack and sun hat – walking sticks are recommended. (A comprehensive gear list is included
in the pre-departure information provided on booking). 
--------------------------------------------------
Special notes:
TRIP ORGANISATION
Our groups consist of a maximum of 14 people. Our luggage transfer service will spare you the worry of carrying your own belongings. There is a 15kg maximum for the bags that are to be transported and any excess will be refused so make sure you weigh it beforehand. 
Trip grading - moderate to challenging
MODERATE to CHALLENGING – GRADE 4
The walking is moderate to challenging (4) grade with daily guided walks of around 5-9 hours, between 8 and 15km and maximum ascents / descents of 1200 metres per day. There are some challenging stages during the walk with steep uphills, descents, and many sections of the trail which require care. The accent is on keeping a steady pace to with time to stop and take photos (subject to weather conditions). You will need a good level of tness to participate fully in this adventure. It is considered suitable for experienced walkers only. Early in the season (June) you may encounter snow on the passes which may be quite deep and alter the grading of the trip to challenging. At any time during summer, weather conditions may be variable and you should be prepared for all conditions including snow, ice, strong sun and extreme winds.
Dietary requirements:
Provided we are advised in advance of your departure we are able to cater for vegetarian diets and can assist with medically recommended diets (allergies and intolerances). Please ensure you discuss your requirements with us well in advance (at least 1 month prior to your trip) to determine whether we can cater to such dietary requirements on your chosen adventure. Please note that options are likely to be limited in very remote locations or alternatives may be more expensive or unavailable. There may be times when those with special requirements may need to provide their own food. We are unable to guarantee a peanut-free or allergen-free trip, and therefore, we strongly encourage that travellers with life-threatening or severe allergies take all necessary medical precautions to prepare for the possibility of exposure. Passengers must travel with all necessary medications for food allergies and be capable of self-administering these medications.
About your group:
You will be joining a group with a mix of participants from different countries, speaking different languages and other group participants may not speak English. Your tour leader will guide in English and French to cater to all participants. This is not an English only speaking tour.
--------------------------------------------------
Fast Facts:
COUNTRIES VISITED France, Italy, Switzerland
VISAS
Visas not required for citizens of Australia, Canada, USA and New Zealand for up to 90 days in a period of 180 days for all Schengen countries 
(see www. schengenvisainfo.com/schengen-visa-countries-list/ for countries part of the Schengen). Please ensure your passport is stamped on arrival in the Schengen area. 
CLIMATE
The walking season in the European Alps is short – from mid June to mid September. Temperatures in summer range from around 6 degrees to 20 degrees Celsius during the day. Afternoon thunderstorms are quite common. At the higher elevations it is important to dress with layers as cold winds and possible snow falls can happen even in summer.
-------------------------------------------------------
Feel free to text or call :[masked] Himanshu
Geneva Airport
Route de l'Aéroport 21, 1215 Le Grand-Saconnex,, Geneva, CH
An diesen Event interessiert?
Geneva Airport
Route de l'Aéroport 21, 1215 Le Grand-Saconnex,, Geneva, CH