Everything You Need To Know About US and UK Universities - Geneva
Mi, 19 Sep 2018
19:00 - 21:00
Is a top university in the US or UK in your future?
Top US and UK universities are the hubs of innovation and the best places in the world for accelerating ambitions and providing unmatched career-building opportunities.
The only problem is, the best universities attract the best talent and there's simply not enough room for everyone.
The application process is highly competitive but gaining admission is still possible, especially if you have the right guidance.
What will be covered at this event?
How to apply to US and UK universities - exam scores, essays, interviews, case studies, etc.

What standards are nessecary to get accepted into the Ivy League, Oxbridge, etc.

How extracurriculars can help you get into your dream school

How to differentiate your application from 100,000 others

Which US and UK universities students from Switzerland should aim for

The employment, career and internship opportunities available to US and UK university students

The structure of US and UK university degrees

The US and UK university lifestyle
Seats are limited so reserve yours now!
Featured Speaker: Rowan Anders - Dartmouth College, INSEAD: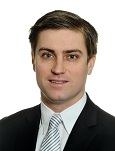 Rowan is a graduate from Ivy League university Dartmouth College where he played NCAA soccer for four years, winning two Ivy League titles and setting four school records while completing a degree in philosophy. After university, Rowan spent several years working in venture capital before completing an MBA at INSEAD, the #1 globally ranked MBA program. Rowan has worked at global management consulting firm BCG and grown a sports data startup through acquisition. Rowan is passionate about the power of international education to broaden students' perspectives and unlock opportunities they never imagined possible. A continuing elite soccer player and avid skier, Rowan heads Crimson's Switzerland operations.
Crimson Education is the world's largest personalised learning company, helping students gain admissions to universities across the globe. With more than 2,300 tutors and mentors located in offices worldwide we have connected more than 20,000 students, entrepreneurs and young professionals with some of the world's brightest young minds. We pride ourselves on securing the very best people for students to work with. These individuals can only join the Crimson family if they are in the top fifth percentile in their area of expertise. So you can rest assured knowing you're working with the finest minds the world has to offer.
An diesen Event interessiert?