Crucial Conversations Preview Workshop
Image from eventbrite.co.uk
An overview of transformational skills taught in the award winning Crucial Conversations training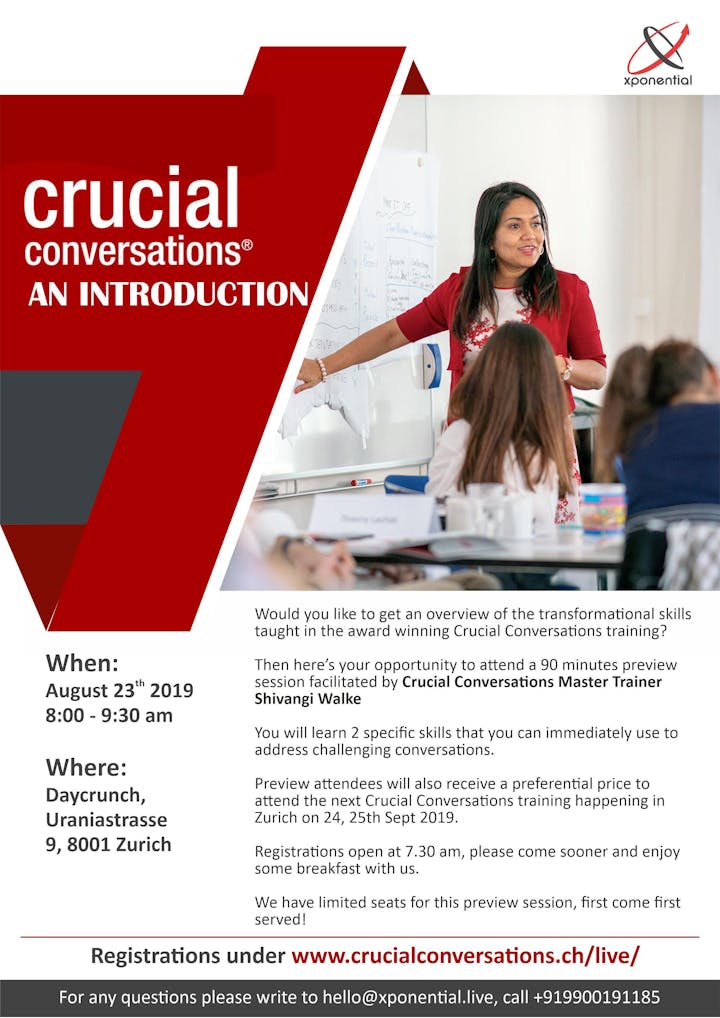 CRUCIAL CONVERSATIONS - A PREVIEW WORKSHOP

Welcome to the Crucial Conversations Preview Workshop in Zurich on August 23rd, 2019


You will learn two specific skills that you can immediately use to address challenging conversations:

How to identify where you are stuck in your career?
- Is it about results you want to achieve?
- Is it about problems that are recurring in your life?
- Or is it about constant complaints you hear at home or work?
How to analyze why you are stuck?
- We will offer you a thinking framework or a mental model to figure out why you are stuck. As you know, diagnosis is the first step to resolve an issue.
The session will be conducted by Crucial Conversations Master Trainer Shivangi Walke (https://www.linkedin.com/in/shivangiwalke)

We will also offer a special deal to the Preview attendees for the next Crucial Conversations training happening in Zurich on 24, 25th Sept 2019.
Registrations open at 7.30 am, please come sooner and enjoy some breakfast with us.
Seats for the preview workshop are limited, first come first served.
For any questions please write to hello@xponential.cc or call +41786484218.
When: August 23 at 8:00 to 9:30 am


Where: Daycrunch, Uraniastrasse 9, 8001 Zurich
1427 Views - 24/08/2019 Last update
Daycrunch
9 Uraniastrasse, Zürich, 8001, ZH, Switzerland
eventbrite.co.uk/e...47?aff=ebopdstevensi
---
Nearby hotels and apartments
9 Uraniastrasse, Zürich, 8001, ZH, Switzerland
The best nearby experiences from our partners
---
---
Daycrunch
9 Uraniastrasse, Zürich, 8001, ZH, Switzerland
eventbrite.co.uk/e...47?aff=ebopdstevensi
---